Reserve Your Seat (CUID Only) Register for Zoom Webinar Watch on YouTube
Location Note
1219 International Affairs Building
420 W 118th St, 12th floor
This event is in-person for CUID card holders only. In-person attendees must be in compliance with Columbia University's health protocols for returning to campus. Pre-registration, valid CUID card, valid green pass, and face covering are required for admittance. All other attendees may participate virtually on Zoom or YouTube.
Please join the Njegoš Endowment for Serbian Language and Culture at the East Central European Center for a discussion of the new translation of Radomir Konstantinović's 1969 work The Philosophy of Parochialism (University of Michigan Press, 2021). Translator Branislav Jakovljević (Stanford University) will be joined by discussant Branka Arsić (Columbia University) and moderators Aleksandar Bošković and Christopher Caes, ECEC co-directors.
The Philosophy of Parochialism is Radomir Konstantinović's (1928–2011) most celebrated and reviled book. First published in Belgrade as Filosofija palanke in 1969, it attracted keen attention and controversy through its unsparing critique of Serbian and any other nationalism in Yugoslavia and beyond. The book was prophetic, seeming to anticipate not only the bloody disintegration of Yugoslavia in the 1990s, but also the totalitarian turn in politics across the globe in the first decades of the new century. With this translation, English-speaking audiences can at last discover one of the most original writers of eastern European late modernism, and gain an important and original perspective into contemporary politics and culture in the West and beyond. This is a book that seems to age in reverse, as its meanings become deeper and more universal with the passage of time.
Konstantinović's book resists easy classification, mixing classical, Montaigne-like essay, prose poetry, novel, and literary history. The word "philosophy" in the book's title refers to the solitary activity of reflection and critical thinking, and is also paradoxical: according to the author, a defining characteristic of parochialism is precisely its intolerance toward this kind of self-reflexivity. In Konstantinović's analysis, parochialism is not a simply a characteristic of a geographical region or a cultural, political, and historical formation—these are all just manifestations of the parochial spirit as the spirit of insularity. His book illuminates the current moment, in which insularity undergirds not only ethnic and national divisions, but also dictates the very structure of everyday life, and where individuals can easily find themselves locked in an echo chamber of social media. The Philosophy of Parochialism can help us understand better not only the dead ends of ethnic nationalism and other atavistic ideologies, but also of those cultural forces such as digital technologies that have been built on the promise of overcoming those ideologies.
Buy from University of Michigan Press and get 30% off with discount code UMF21
Biographies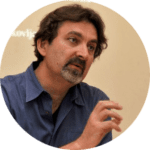 Branislav Jakovljević is Professor and Department Chair at the Stanford University Theater and Performance Studies Department. He is the author of Alienation Effects: Performance and Self-Management in Yugoslavia 1945-1991 (University of Michigan Press 2016), winner of the 2017 ATHE Outstanding Book Award, and of the Joe A. Callaway Prize for the Best Book on Drama or Theater for 2016-17. His most recent book, Smrznuti magarac i drugi eseji (Frozen Donkey and Other Essays, 2017), was published in Serbian language in Belgrade. Jakovljević publishes widely on subjects ranging from history of modernist theater, to experimental performance, to avant-garde and conceptual art, to contemporary performance. His articles appeared in leading scholarly journals in the United States (Theatre Journal, TDR, PAJ, Art Journal, Art Margins, Theater) and in Europe. In 2013 he chaired the 19th annual Performance Studies international conference "Now Then: Performance and Temporality" at Stanford University. His first book Daniil Kharms: Writing and the Event was published by Northwestern University Press in 2009.
Branka Arsić is the Charles and Lynn Zhan Professor of English and Comparative Literature at Columbia University. Arsić specializes in literatures of the 19th century Americas and their scientific, philosophical and religious contexts. She is the author of several books; most recently, Bird Relics: Grief and Vitalism in Thoreau (Harvard University Press, 2016), which was awarded the MLA James Russell Lowell prize for the outstanding book of 2016. Her work has appeared in such journals as Common Knowledge, Diacritics, ELH, J19, Leviathan, New England Quarterly, Nineteenth Century Prose, Qui Parle?, Representations, Telos and Textual Practice, and discusses such authors as Mary Rowlandson, Anne Bradstreet, Jonathan Edwards, Ralph Waldo Emerson, Emily Dickinson, Herman Melville, Henry David Thoreau, Stanley Cavell and Gilles Deleuze.
Event Video