Reserve Your Seat
Important Note
Registration required. Please note that all attendees must follow Columbia's COVID-19 Policies and Guidelines. Columbia University is committed to protecting the health and safety of its community.  To that end, all visiting alumni and guests must meet the University requirement of full vaccination status in order to attend in-person events.  Vaccination cards may be checked upon entry to all venues.  
Please join the Ukrainian Studies Program at the Harriman Institute for a presentation by Ukrainian poet Lyuba Yakimchuk entitled False Friends and Beloved. The event will be moderated by Mark Andryczyk (Harriman Institute).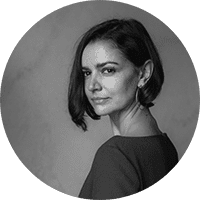 Lyuba Yakimchuk is a poet, dramatist, and scriptwriter born in 1985 in Pervomaisk, Luhansk region. She currently lives in Kyiv, Ukraine. She is the author of several full-length poetry collections, including Apricots of Donbas, which received the International Poetic Award of the Kovalev Foundation (NYC, USA). This book was listed in the Top 10 books about the war in Forbes magazine, Ukraine. Her poems have been translated into more than twenty languages. She is also the celebrated author of two film scripts and two plays. Yakimchuk is the first ever poet performer at the  Grammy Awards — in 2022 she performed her poem Prayer as part of the Free piece by John Legend dedicated to Ukraine. In 2015, Kyiv's New Time magazine listed Yakimchuk among the one hundred most influential people in the arts in Ukraine.
In 2021, Apricots of Donbas, a collection of Yakimchuk's poems translated into English by Oksana Maksymchuk, Max Rosochinsky, and Svetlana Lavochkina, was published by Lost Horse Press.
Photo by Dirk Shiba