Register on Eventbrite
Watch on YouTube
The Ukrainian Film Club of Columbia University presents a new event series: New Genres of Contemporary Ukrainian Cinema. This first installment, focusing on the youth film genre, features an online discussion with directors Kateryna Gornostai and Nikon Romanchenko. Professor Yuri Shevchuk will introduce the guests and moderate an audience Q&A.
Registrants will receive online access to two shorts by these film directors: Lilac by Kateryna Gornostai (2017, 30 min) and Leopolis Night by Nikon Romanchenko (2021, 27 min), which won him the Best Director Award at the Odesa Film Festival. The link and the password to the films are available on the Eventbrite Online Event Page.
Both directors represent a new generation of Ukrainian filmmakers, and both have been in the news lately thanks to their collaboration on their feature film Stop-Zemlia (2021). Kateryna wrote and directed this romantic drama, while Nikon edited it. The film was their first feature-length production. Previously, they directed a number of separate shorts, which provide ample evidence of their talent and originality.
Stop-Zemlia became a critical and commercial sensation in Ukraine in 2021, and attracted considerable international attention and praise. It was awarded the Crystal Bear in the Generation 14+ section of the Berlin International Film Festival 2021. It also won the Best Film Award and the Best Actor Award at the 12th Odesa Film Festival and was screened at the prestigious Film Society of Lincoln Center in New York. Stop-Zemlia will have its U.S. theatrical release in February 2022.
About the Filmmakers
Kateryna Gornostai, a Ukrainian film director, writer, and editor, was born in Lutsk, Ukraine in 1989. She studied at the Marina Razbezhkina and Mikhail Ugarov School of Documentary Film and Theatre in Moscow, Russia, and began making documentaries in 2012. During the Euromaidan Revolution, she returned home to Kyiv. She later moved into fiction and hybrid forms of filmmaking. Stop-Zemlia is her debut feature film. Alongside her work as a filmmaker, Kateryna also teaches documentary filmmaking at the National University of Kyiv-Mohyla Academy. Her filmography includes: Away (2015, 11 min) Maidan Is Everywhere (2015, documentary, 37 min), Lilac (2017, 30 min), Crocodile (2018, 18 min), and Stop–Zemlia (2021, 122 min).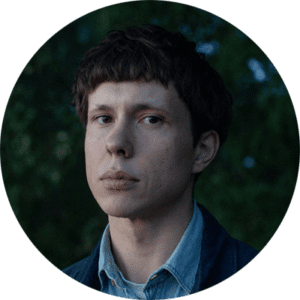 Nikon Romanchenko is a Ukrainian film director, actor, and editor. Born in Kyiv in 1992, his first experience in cinema was as an actor at the age of ten in Serhii Masloboishchykov's feature drama The Sound of the Wind. He graduated from the Ivan Karpenko-Kary University of Theater, Cinema and TV with a major in TV film directing. His films were selected for official competition in both national and international film festivals. In 2014 his feature documentary The Face won the Best Documentary Award at the Molodist International Film Festival in Kyiv. His filmography includes: Salvation (2016, 16 min), The Face (2014, documentary, 25 min), Merry-Go-Round (2015, 15 min), The Interval (2016, documentary, 12 min), Out of Range (2017, 27 min), Terra (2018, 70 min).
Event Video