Register for Zoom Webinar
Watch on YouTube
Please join the Program on U.S.-Russia Relations at the Harriman Institute and the Columbia Institute of African Studies for a panel discussion on the role of Russia in Africa, moderated by Elise Giuliano (Harriman Institute).
In recent years, Russia has stepped up its engagement in Africa, forging military and security agreements as well as business relationships with leaders in several states. What lies behind Russia's "return" to Africa? During the Cold War, Africa constituted a major site of Soviet geopolitical competition with the U.S. Does this history, as well as the legacy of Soviet antiracism, inform Russia's current goals and actions on the continent? Panelists will explore this issue, as well as the impact of Russia's presence on security and humanitarian crises within Africa. What has been the reaction of various local actors to Russia's presence? Panelists will also discuss the policy response: how should the international community and the West respond to Russian engagement in Africa?
This event is supported by a grant from Carnegie Corporation of New York.
Speakers
Maxim Matusevich, Professor of Global History and Director of the REES Program at Seton Hall University
Alexandra Lamarche, Senior Advocate for West and Central Africa at Refugees International
John Lechner, Journalist and researcher
Moderator:
Elise Giuliano, Harriman Institute Associated Faculty and Director of the Program on U.S.-Russia Relations (PURR)
Biographies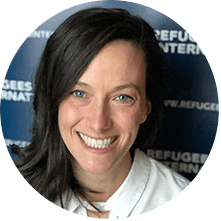 Alexandra Lamarche is the senior advocate for West and Central Africa at Refugees International. She has led research missions on displacement crises in the Central African Republic, the Democratic Republic of the Congo, Mali, and Nigeria, among others. Prior to joining Refugees International in 2017, Alexandra held various positions in the Canadian government and worked on issues of conflict, reconciliation, and migration in the Central African Republic, Chad, Lebanon, Mauritania, Côte d'Ivoire, and Uganda. She holds a Masters in Conflict, Security, and Development from the University of Sussex in the UK and Bachelor of Social Sciences in Conflict Studies and Human Rights from the University of Ottawa, Canada. Alexandra is fluent in both French and English.
John Lechner is currently a Policy Analyst for Azerbaijan, Turkey, and Uzbekistan at the U.S. Commission on International Religious Freedom (USCIRF), a bipartisan federal government advisory body. Prior to joining USCIRF John spent seven years as an investment banker, then switched to freelance journalism—covering the history, languages, and politics of Central Africa, Turkey, and the Caucasus. He speaks Russian, French, Turkish, Georgian, Chechen, German, and Sango (the lingua franca of the Central African Republic). He is currently learning Chadian Arabic, Armenian, Circassian, and Svan, among others. He holds an MS degree from Georgetown University's MSFS program, and a BA in Slavic Languages and Literature from Harvard. His bylines include Foreign Policy, War on the Rocks, Kyiv Post, Africa is a Country, African Arguments, and The National Interest, among others. Twitter: @JohnLechner1
Maxim Matusevich is Professor of Global History at Seton Hall University, where he also directs the Russian and East European Studies Program. He is the author of No Easy Row for a Russian Hoe: Ideology and Pragmatism in Nigerian-Soviet Relations, 1960-1991 (Africa World Press) and editor of Africa in Russia, Russia in Africa: Three Centuries of Encounters (Africa World Press). Maxim has published extensively on the history of African-Soviet/Russian encounters, Soviet antiracism, and the history of African American presence in the Soviet Union. His most recent article, "Russian 'Alternative' in Sub-Saharan Africa: A Challenge to Western Liberalism" (ISPI 2021), looks at the peculiarity of Russia's post-Soviet "return" to the continent.
Event Video