Reserve Your Seat
Important Note
Registration required. Please note that all attendees must follow Columbia's COVID-19 Policies and Guidelines. Columbia University is committed to protecting the health and safety of its community.  To that end, all visiting alumni and guests must meet the University requirement of full vaccination status in order to attend in-person events.  Vaccination cards may be checked upon entry to all venues. 
Please join the Harriman Institute for a conversation with Emmie America. Moderated by Tatiana Mikhailova, Tatiana Efremova, and Maya Shkolnik.
Emma America will present on her recent work and activism to provide insight into the interdisciplinary realms of Slavic culture during a time of war.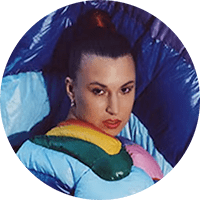 Emmie America is a Russian artist and fashion photographer currently based in New York City. In 2021, Emmie America was detained and fined by Russian authorities, after organizing a politically charged photo shoot in Moscow, where 25 participants dressed in police uniforms surrounded the word 'Freedom' written in the snow. Emmie, who has worked with brands such as Vogue, Louis Vuitton, Guess, and Calvin Klein, was charged by police for "organizing a protest." Her work often explores narratives around coming-of-age vulnerability, no sense of belonging, insider-outsider perspective, LGBTQIA+ communities and experiences, and party culture as the ultimate cure. Since Russia's brutal invasion of Ukraine, Emmie has used her voice and considerable social media following to express her solidarity with the people of Ukraine and raise awareness of ways to help the ongoing country's war effort. Her work is academic in nature as well; she has worked as a part-time professor at The Rodchenko Art School in Moscow and studied at Parsons School of Design, where she felt uplifted by the New York community of artists and activists to pursue photography.